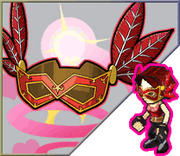 Character Customization
Now you can customize your in-game character in any way you like. You may even tweak your character to resemble your favorite anime or cartoon character! The possibilities are endless!
Fashion Galleria
There are over a thousand pieces of avatar for you to choose from to showcase your unique individuality. You'll never fall behind time of fashion ever again!
Simple Key Control
With simple keyboard controls, you can easily master the game and even achieve power combo moves and attacks to defeat your opponent in style. Find out the best equipment and power combo most suitable for you and you'll be ready for any battle to come!
Training
Seek out our friendly NPCs for a fun step by step instructional training to prepare for the grueling battle ahead! You may want to make a quick-stop to the training grounds too, should you need to hone your moves before squaring off with your opponents!
Gaming Modes
There are lots of exciting modes to play in, from facing off alone in matches to thrilling sports competitions with your buddies. Friends can compete against each other in the battle ground to see who will survive in the fight of the fittest!